Video beyond Voice Push-To-Talk
ProPTT2 Embedded App
"World First PTT App without PTT button, ProPTT2 Embedded"
It's handy and smart with on any screen size. Just push and talk.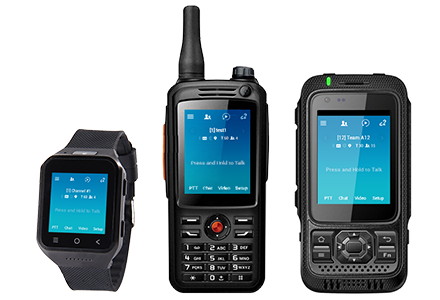 Features
Fit to any screen

ProPTT2 Embedded app supports a variety of screen sizes; wearable devices, dedicated devices with keypad, tablet devices.

More about PTT Device / Wearable

Simple user interface

We removed the visible "Lock button" and simplified app UI for easy and convenient PTT communication.

Handy PTT with screen touch

Just push the main screen to transmit PTT message to others.
Do not worry about pressing the wrong button in a small size screen.

KIOSK mode (App Always on foreground)

To respond to the situation rapidly in the field, Push-To-Talk app need to stay in foreground status.
ProPTT2 Embedded app supports kiosk mode that make the app stay in foreground status for instant communication.
world first dual audio mode(MP3/VoIP)

ProPTT2 app supports both Full-Duplex VoIP mode and Half-Duplex MP3 mode. Users can choose one of audio mode depending on their PTT device and environment. Also ProPTT2 app supports noise reduction / low-path filter during auido input/output for sound quality.
- ProPTT2 Android/Embedded app only

Video/Voice PTT (1:1, Group, 1:N)

Communicate with users in a same channel using video and voice. (with camera switch button)

Real-time video sharing

While using video sharing, you can use voice Push-To-Talk or text chatting.

Learn more about Video Sharing

Instant Messaging(IM)

Text chat(Group, 1:1) with users within a same channel. (Auto-deletion supported based on storage capacity/time)

1:1 Chat

Without connecting a channel, you can have a one-to-one text chat with your friend.

Transfer images

You can transfer ../images/photos on your device or take a picture and send it to other users.

Transfer location

You can transfer a location to other users.

Location sharing

User can share their location information while sending PTT.

Push-To-Talk history

Received messages can be saved; you can replay it or you can talk to someone 1:1 directly. (Auto-deletion supported based on storage capacity/time)
Interrupting PTT

smartphone app user can stop other users' push-to-talk, and can transmit his/her voice PTT message preferentially.
- channel's Owner/Operator only
- ProPTT2 Android/Embedded app only

SOS message

You can receive SOS messages from other channel users. (supports SOS hard key of PTT phone)
- ProPTT2 Server Package/Cloud service only

Alert message

You can receive channel alert messages sent by administrator via Admin Web.
- ProPTT2 Server Package/Cloud service only

Real-time channel synchronization

When the administrator changed and synchronized channel information, it is applied to user applications in real-time.
- ProPTT2 Server Package/Cloud service only

Competitive PTT Lock

You can push the PTT button even when receiving PTT of the others. At this time, it turns into "PTT requesting" state and when other's transmitting ends, you can send PTT right away.

Supports simultaneous output of terminal speakers during audio PTT transmission

You can change output option to hear what you speak from your device speaker. It can be used in the noisy places or you can use it like the broadcasting to connect an external speaker. (available in MP3 mode and earphone / Bluetooth output)

Mobile network (3G, LTE) only

To strengthen the service security of corporate customers, You can set up that ProPTT2 app can use only proprietary mobile networks (3G, LTE) that only users of corporate customers can access.

Supports device's IMEI and Phone number authentication

With the authentication of the user device's unique number(IMEI) and Phone number, only the user device that has been authenticated through the ProPTT2 server can be logged in and use the service.
* supported from ProPTT2 Sever Package(v3.1.2~) or above

DNS based Server Detection

Without having to enter the IP address of server, users can easily log in to the sub domain linked with the IP address of ProPTT2 server.

supports low quality audio(VBR~8kbps)

ProPTT2 app can recognize your voice to adjust the data, transmitting it with relatively low sound quality to use low capacity.
Wearable app

ProPTT2 supports wearable app for Android Wear. You can use your wearable device as a Push-To-Talk button.

Learn more about ProPTT2 Wearable App

Bluetooth device connection

You can transmit PTT by using bluetooth headset or PTT button paired with your device.

Use PTT key when screen is off

ProPTT2 Embedded supports using PTT button of device when the app is in background or the device is screen-off.

Supports external UVC camera connection for useful video sharing

For convenient video sharing in a various areas, ProPTT2 supports not only built-in camera in smart devices, but also external UVC camera connections. It will helps you to use ProPTT2's real-time video sharing effectively.
- ProPTT2 Android/Embedded app only
Learn more about UVC camera

Convenient functions for video sharing using smart devices

When using video sharing PTT, you can use various useful functions optimized for smart devices.
-Specify an external button for the video transmission
-using video transmission when screen is off
-Auto-recording on play
*ProPTT2 Android/Embedded app only

Supports device provisioning

ProPTT2 app can be customized by device provisioning. then ProPTT2 app can support non-screen devices also. (ProPTT2 Android/Embedded app only)
view detail
Floating PTT button

You can send PTT message with floating PTT button even if you are using other apps or ProPTT2 app is background.
- ProPTT2 Android/Embedded app only

Light/Dark screen theme

You can choose a sceen theme for daytime/night or make it automatically change depending on time you have set.

Easy to change PTT channel

You can change current slot channel conveniently by setting the shortcut button.
- ProPTT2 Android/Embedded app only

Lock your Push-To-Talk setting

You can lock your own Push-To-Talk settings to keep it not be arbitrarily changed while using the app.

Change your beep sound of PTT/SOS/Alert

You can choose the beep sound for PTT Send / Receive / End and SOS / Alert message. You can also add user-created beep sounds.
ProPTT2 Embeddded examples
ProPTT2 Embedded app is useful with Android-based wearable devices(watch), PTT dedicated devices and devices for automobile.

ProPTT Embedded app provides more convenient IP-PTT service
to Cloud service users / Server package customer's users
for your own video IP-PTT system

ProPTT2 Server Package

Learn more >