Video beyond Voice Push-To-Talk
ProPTT2 SDK(Software Development Kit)
Make Your Client Application with ProPTT2 SDK
We provides ProPTT2 SDK for you. You can embody custom IP-PTT service environment for large organizations / enterprise clients who want to build their own system.

by using ProPTT2 SDK, SI/Solution development companies can add video/voice Push-To-Talk function on their client application or they can develop a new ProPTT2 client application on demand. Manufacturers can produce IP-PTT Gateway device or IP-PTT dedicated devices using SDK.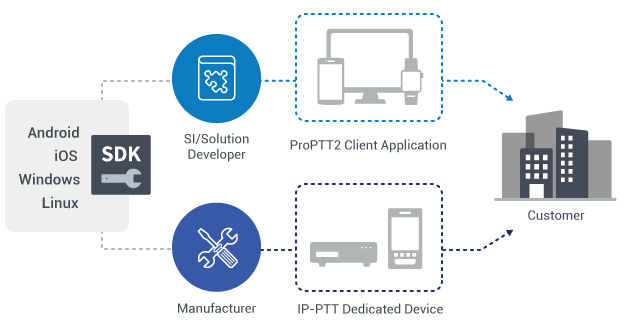 ProPTT2 SDK supports Android/iOS/Windows/Linux. by ProPTT2 SDK, you can embody IP-PTT service that optimized for your client's environment.
Learn more about ProPTT2 SDK
SDK Comparison by OS
ProPTT2 SDK
Android/iOS
Windows
Linux
ProPTT2 Client application development
Supported Features
Video Push-To-Talk(1:1, Group, 1:N)
Voice Push-To-Talk(1:1, Group, 1:N)
Real-time video sharing (need a relay server connection)
Instant messaging(1:1, Group, 1:N)
Transfer images/location
Locating users
channel / user management
Supported Modules
PTT channel / session management
Group/Memeber/Buddy management
High-resolution video (H.264)
High-Quality Audio (OPUS)
GPS
Communication Methods
TCP/UDP, Bluetooth
TCP/UDP, Bluetooth
TCP/UDP
Server integration
PTT Server Package
PTT Cloud Service
Others
Supports wearable device

ProPTT2 Developers
We provide ProPTT2 SDK, guides, and sample programs for your own client applications on ProPTT2 developers website.
more