Video beyond Voice Push-To-Talk
ProPTT2
Smart video IP-PTT solution

ProPTT2, Beginning of video Push-To-Talk service!
ProPTT2 provide video based IP-PTT system and service
optimized for customer's needs.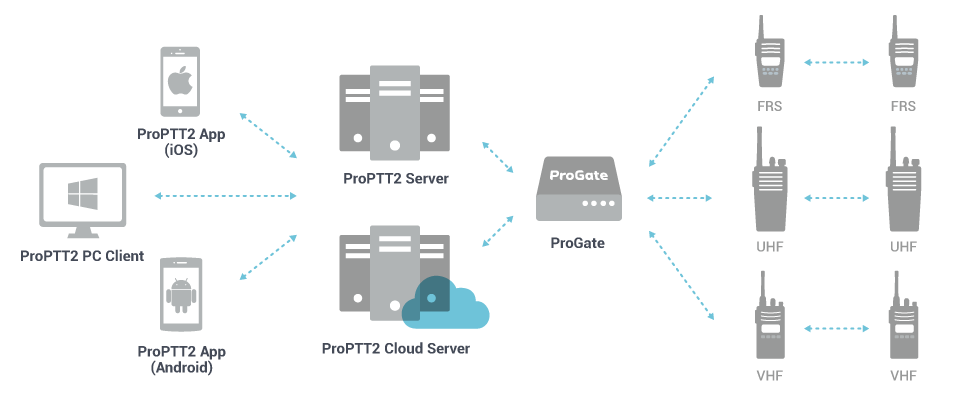 ProPTT2 is a IP-PTT solution that provides services with video/voice PTT, real-time video sharing, image transfer, instant messaging(IM), location sharing etc. and also it's voice PTT compatible with two-way radio.
Voice PTT

Video PTT

Image transfer

Instant Messaging
(IM)
Professional Technology of ProPTT2
With our own technology, we provide ProPTT2 products and PTT services to meet your business needs.
ProPTT2 protocols for efficient video PTT and video sharing
(Patent registered)
Radio/phone connections
by SIP protocol & IP-PTT G/W
integration technology
Server SW technology application
for bulk service and scalability
(TTA verification passed)
Customized ProPTT2 products
for customer's own system
Learn more
ProPTT2 Device and Accessory
For your convenience, ProPTT2 supports various mobile, wearable and Bluetooth devices.
PTT Phone

Bluetooth
Speaker Mic./PTT button

Wired PTT Earset

Wearable Device

UVC Camera
Case Study
ProPTT2 can be utilized in various industrial fields that require fast communication.

Learn more