Video beyond Voice Push-To-Talk
ProGate
IP-PTT Gateway Device for connecting to two-way radio

ProGate is a IP-PTT Gateway device that provides you voice PTT communication environment between IP based Push-To-Talk service and two-way radios(FRS, UHF, VHF, TRS).

It supports Peer-to-Peer mode and IP-PBX device connection for the connections radio to radio or radio to phone.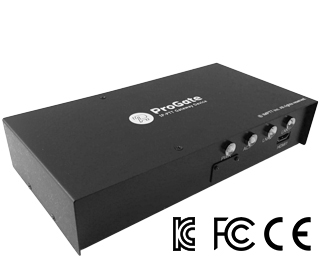 Main Features
Voice PTT compatible with radio (FRS,UHF,VHF,TRS)
Support various protocols and high-quality voice codecs
Support PTT Signal Input Port
Web interface for managing channel/settings
Support connections between
ProPTT2 Server/Cloud system and two-way radio
Prevent PTT lock duplicates in multiple ProGate installation environment
Integrated with COR interface(4 Generation)
Support Mic Amplification
Support noise reduction
Support Low Path Filter
Voice PTT Compatible with phone
by connecting with IP-PBX device

researching

Supports a mode without server system
(single, topology)

researching
ProGate Communication Modes
ProGate supports optimal communication mode depending on site conditions.
By supporting connection with ProPTT2 Cloud/Server system,
ProGate provide voice PTT environment between smartphone with ProPTT2 application and two-way radio. Video

You can use multiple radio channels as a single unified channel
by integrating several ProGate(1 Port), which connected to each radio channels, with ProPTT2 Server. Video

With ProGate's Peer-to-Peer/Topology mode you can communicate with
a radio that has different frequency (FRS, UHF, VHF or TRS) or a radio out of communication range.(researching)

With SIP connection, ProGate supports connection of
phone (incl. IP-Phone) and two-way radio through IP-PBX device.(researching)

※ For connections above, you need a ProGate Cable suitable for the radio.
Learn more about ProGate Cable
We Provide ProGate Firmware.

ProPTT2 provide software based firmware which optimized for the production of IP-PTT Gateway. With this G/W device, you can connect IP based Push-To-Talk service and two-way radio you have.
Learn more >

ProPTT2 Developers
We provide ProPTT2 SDK, guides, and sample programs for your own client applications on ProPTT2 developers website.
more