Video beyond Voice Push-To-Talk
ProPTT2 App Service
for individual user
Smartphone application is available for iPhone and Android on App Store or Google Play Store.
You can use ProPTT2 services like 1:1/Group/1:N video Push-To-Talk, voice Push-To-Talk, Instant Messaging, and so on.
Create your own private Push-To-Talk channel and
communicate by video Push-To-Talk with others.
ProPTT2 App service offers video-based IP-PTT service through the ProPTT2 Application.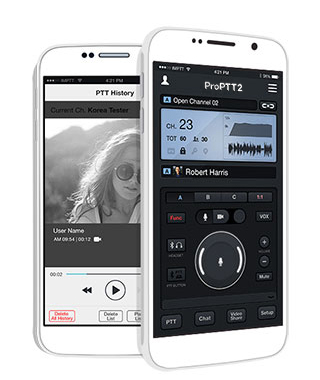 Voice/Video PTT
(1:1, Group, 1:N)
Instant Messaging
(1:1, Group, 1:N)

Transfer images/location

Location sharing

Bluetooth device connect

a variety of platforms
Demo Channel

Without Signing Up, Use PTT service as a Guest member

Free Channel

Free account and one free channel (Up tp 20 people in a channel)

Paid Channel

Purchase a paid pass and up to 30 new channels (Up to 500 people)
Membership
Guest
Free Member
Paid Memeber
Applications
iOS
Android
Windows
Functions
Video/Voice Push-To-Talk(Group, 1:N)
Video/Voice Push-To-Talk(1:1)

(Accepting invitation only)
Instant Messaging(1:1, Group, 1:N)

(1:N chat only)
Transfer images/location
Location Sharing
Channel
Demo channel
Free Channel (basic one channel)
Channel Creation (Up to 30 channels)
Channel Subscription
Friends
Manage Friends List (Add friends, Delete friends)
Inviting friends to my channel
Subscribing friend's channel