Video beyond Voice Push-To-Talk
ProPTT2 Wearable App
"Your wearable device paired with your smartphone can be used as a PTT button via ProPTT2 Wearable App."
ProPTT2 wearable app features

Transmit voice PTT

Replay last PTT message

Recent chat

Chat > view image

View profile,
change status

(android only)
ProPTT2 wearable app is available on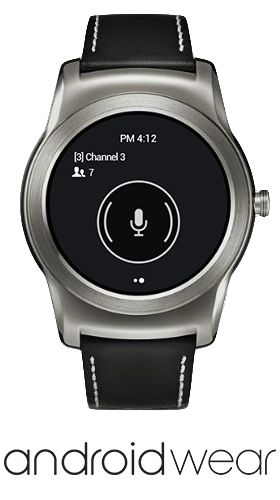 android wearVideo
First install ProPTT2 app on your android phone.
Go to Play Store app of the android wear device, and you can install ProPTT2 wear app on your wear device.
(the android wear device should be connected to your phone)
( supported android os 6.0.1, android wear 1.4 or above )
* PTT button type: Push-and-hold or toggle (depends on your settings)
* if you push the button on the wear app, the app uses the mic of the wear device.
* You can use the bluetooth or earset speaker.
* Some devices may not be supported.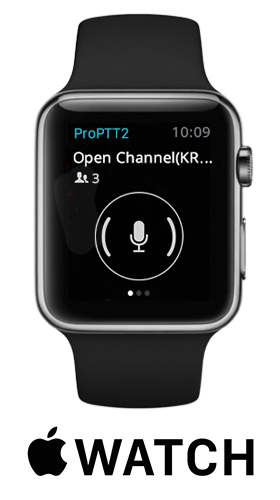 Apple WatchVideo
After installing ProPTT2 on your iphone, launch the Watch app on your iPhone
Go to My Watch > ProPTT2 > Turn on the option for Show App on Apple Watch to use ProPTT2 watch app
( supported iOS 9 or above, Apple Watch Series 2(Watch OS 3) only )
* PTT button type : Toggle
* Please note that ProPTT2 watch app could not use the mic of the Apple watch.
* You can use the bluetooth or earset speaker.